Quantitative Risk Analysis Management

A Quantitative Risk Analysis (QRA) is by no means a small feat to undertake. It requires numerous experts from a number of discipline areas to create a complete QRA that will add any value to your design in assuring your authorities (Local and National Regulatory groups or Corporate Client Risk Managers etc.) that your project is going to operate within designated Risk Criteria.

One of the first steps in determining what a QRA will achieve is to understand what risk criteria are you attempting to achieve.


Risk of fatalities can be measured using a few different forms:

Fatal Accident Rate (FAR)

Potential Loss of Life per year (PLL)

Individual Risk per Annum (IRPA)

F-n Societal or Group Risk Curve

Risk Tolerance are typically given in our experience as a function of IRPA or the list of modeled fatality scenarios are plotted on an F-n Curve.

Typical Ranges for Individual Risk per Annum:


Workers: 5x10-4
Public at Large: 5x10-5
Typical Societal or Group Risk FN curve: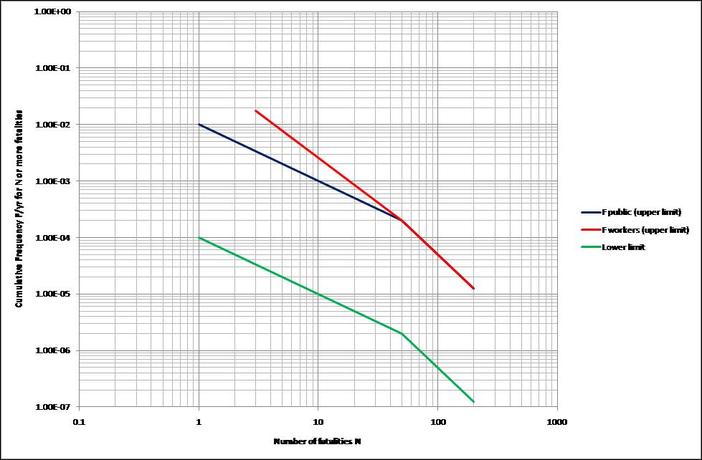 Determining the actual fatality based on your Major Accident Hazards requires a number of specialized studies to be conducted:
Fire Modelling

Radiation Modelling

Explosion Modelling

Dispersion Modelling

These studies require expensive high level software and specialized computational personal to run these models. They need to understand the differences and applicable benefits between Explosion model calculations e.g.
TNT vs TNO vs.
Baker
-
Strehlow.
TNT for example creates large blast impulses in close proximity to detonation source and is better for un-congested scenarios. While Baker-Stehlow is more adept at being able to effectively understand increased pressure over-pressures based on turbulent flow of a propagating flame front from a deflagration in a congested area.
Did the above sentence seem difficult to understand? Good, because those issues are important to understand when trying to explain that a typical QRA will take 6 months and cost over $300k to complete for a simple onshore facility.
We could go on and on, explaining the required inputs from Process Engineering and Mass Balance calculations to Operations input regarding manning distributions. However there isn't enough space here and your attention is likely already getting very low.
ALARP Engineering can manage your QRA study to ensure that the values are as accurate as they can be.
ALARP Engineering has agreements with other companies who do regularly model with DNV's PHAST software and can computate the risk results in both IRPA, PLL and FN curve mediums. ALARP Engineering will also be able to use QRA details to provide the Performance Standards for Safety Critical System in terms of Function, Reliability, Availability and Survivability.