What is ALARP Engineering?

It goes by many different titles: Technical Safety Engineer, Loss Prevention, Process Safety, Risk Engineer, HSE Engineer etc. Usually it's an attempt to define a difference between Occupational Safety or Safe Operations versus the engineering capability to make a facility "safe" from major accidents or major risks.

Energy Companies and Projects spend millions of dollars attempting to understand what their Risks are and how to reduce them. There are no shortages of studies, reports, deliverables and endless recommendations that purport to achieve the status of a "safe design", be it; PHA/HAZOP, Risk Analysis, Independent Verification, Safety Audit etc.

Borne out of the Piper Alpha disaster of 1988, and the Lord Cullen report, the UK regulatory scene changed dramatically. In the new world order of risk quantification as the norm, we are able to have our risks measured, and a risk criterion given to individuals or groups.

The ALARP region is given to the "Tolerable" Region that lies between the Intolerable Risks and Negligible Risk.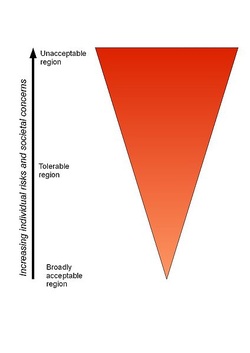 'ALARP' arises from UK legislation, particularly the
Health and Safety at Work etc. Act 1974
, which requires "
Provision and maintenance of plant and systems of work that are, so far as is reasonably practicable, safe and without risks to health
". The phrase So Far As is Reasonably Practicable (SFARP) in this and similar clauses is interpreted as leading to a requirement that risks must be reduced to a level that is As Low As is Reasonably Practicable (ALARP). Industry has since reinforced the term from the Lord Cullen report's recommendations from Piper Alpha disaster and the Safety Case Regime. It more loosely means that risks, in this region, must be continually reduced to a point where the cost of implementing a risk reduction strategy far outweighs the reduction of risk.
ALARP Engineering is your solution to achieving this goal. We are your experts in:
Major Accident Hazard Identification

Quantitative Risk Analysis Management

Fire, Explosion, Dispersion Studies
Siting Studies

Safety Critical Elements (Systems/Barriers)

Performance Standards of SCE

HAZOP/HAZID facilitation

Process Safety Reviews

Technical Safety Philosophy Standards

Technical Safety Specifications

Technical Safety System Design
- Firewater System Design and Calculations
- Fire and Gas Detection Design and Layout
- HVAC Design and Layout
- Passive Fire Protection Layout
- Safety Instrumented Systems
Package Engineering

Independent Verification

ALARP Demonstration

Safety Case / Safety Plan

Peer Reviews / Safety Audits

Action Tracking Management Software

Project Risk Register Management